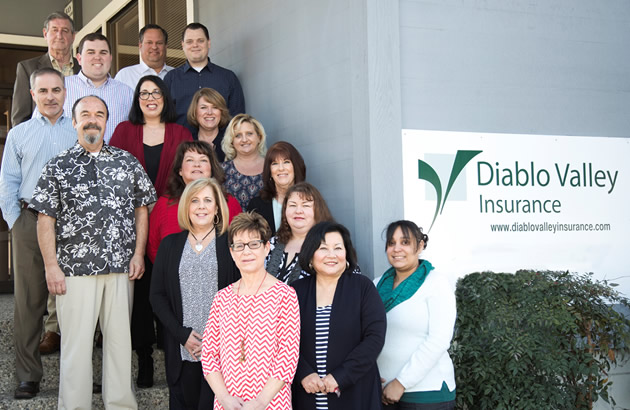 Diablo Valley Insurance Agency is a full-service independent insurance brokerage located in Walnut Creek, CA. Founded in 1956, our agency has been providing insurance services to clients throughout Northern California and the Western United States for over 50 years. Our team of insurance professionals will take the time to understand your needs, whether personal or related to your business, and provide the best products and services for you.
We will help you find the right combination of tailored, personalized insurance coverage at just the right price to fit your needs.
Insurance Tailored For You
We invite you to complete an online quote, call us at 925-210-1717, or contact us at request [at] diablovalleyinsurance [dot] com to review coverage options for car insurance, home insurance, business insurance, renters insurance, boat insurance, and more. We provide free, no hassle and no obligation insurance quotes to help you make an informed insurance decision.
Affordable and Reliable Insurance Choices
Diablo Valley Insurance strives to offer you quality insurance coverage, a high level of professional service and a long-term relationship. As independent insurance agents in Walnut Creek, well research rates and coverage from top insurance companies to find the best insurance rates and insurance plans for you. We do the insurance shopping and comparing for you to save you time and money!
Contact us or request a quote online today!
---
I have all my auto, motorcycle, home, and landlord insurance policies through Diablo Valley Insurance Agency, and have always been extremely pleased with their service. My agent is Blanca, and she has always been hard working, friendly, and extremely competent, a Great Agent! I would not even consider using any other agency.
This insurance company is a real find, both with regards to quotes and prices and the complete sense of teamwork with their agents. I recently shifted my insurance portfolio to Diablo Valley Insurance Agency… I have only the highest praise for my dealings with this insurance company and the individuals I've had contact with, not to mentions their quotes are the best. This is truly a client friendly agency; my only regret is I didn't discover them sooner.
My parents have been with Diablo Valley Insurance (through its various iterations) and have always had great prices for auto insurance as well as excellent service. After recently purchasing a new car, I got several quotes from online retailers as well as brick and mortar companies. After working with Megan to apply a few discounts (multiple car, alumni association, science/engineering degree), the price was fairly close to the online brokers and I get to work with people that my family has had a long relationship with.
The company I work for has used Diablo Valley Insurance Agency for quite some time now. Our super star agent is Melissa. I highly recommend them and her. The line of work we do requires us to constantly add certificate holders/additionally insured. All have to do is shoot an email over, and Melissa takes care of the rest. It's like magic! It's usually done within hours. In fact today, I sent a request at 11:16am, and at 12:18pm, Melissa had emailed/updated me and my client. It is so nice not having to worry. I know my requests are handled quickly and thoroughly. Last year we had to make a change to our insurance in order to comply with a customer's requirements, and making that change was easy too. Also, they'll get you great rates.
Our experience with Diablo Valley Insurance Agency has been fantastic! We have been doing business with them for the past seventeen years. They hold all of our homeowners, auto and boat policies. The staff at DVIA is incredibly helpful and courteous. Whenever we call with any type of question or concern they are able to answer it immediately. They have given us the best rates possible and will do anything to insure that we are happy and satisfied customers.
I have been meaning to take time to share how delightful it is to work together. Your consistent level of detail-oriented and prompt support clearly surpasses any potential "competition." It is particularly helpful at an organizational level that you both anticipate and plan well in advance of insurance expiry dates. Thank you for taking sufficient time for a detailed read of our many requests for certificates of insurance. Eliminating the "do-overs" has surely helped maintain sanity with all these certificates. I took a look at it appears that in the calendar year 2014: we requested approximately 108 certificates. Thank you so much for helping us to keep it all straight! I look forward to another year working together.
I have worked with Diablo Valley Insurance since 1992. Through all these years, they have been an excellent advisor in helping me with my business insurance needs as well as my personal insurance needs. If there is a claim or question that needs to be taken care of, Jon and Amber are right on top of it. They are an asset to my family run company and it's great to have their help.
---
Where We Are
Offices in / Licensed in
We are located in Walnut Creek, California, and are also licensed in Arizona, District of Columbia, Florida, Idaho, Illinois, Georgia, Louisiana, Mississippi, Nevada, New Hampshire, New Mexico, New Jersey, North Carolina, New York, Ohio, Oklahoma, Oregon, Rhode Island, Texas, Washington, Virginia, Utah, Colorado, Kansas, Minnesota, and Missouri.